About Us
---
For close to four decades, Sceptre has stood as a pioneering force in the LCD/HDTV industry. Headquartered in the City of Industry, a prominent center for the computer industry, Sceptre has consistently strived for innovation and advancement in technology.
Over the past 39 years 1984-2023, Sceptre's unwavering commitment to progress has provided a solid foundation upon which it has built an empire of cutting-edge display technology. Starting with their groundbreaking introduction of CRT technology in 1984, Sceptre's Research and Development (R&D) labs have undergone a transformative journey, ultimately leading to advancements in LCD technology. As early as 1993, Sceptre's R&D lab introduced its first generation of LCDs, setting the stage for subsequent technological breakthroughs such as LED and 3D displays.
This strategic shift has positioned Sceptre's R&D labs at the forefront of innovation, not only in LCD displays but also in LED HDTV and 3D technology. Sceptre has earned its reputation as a trailblazer in the LCD/LED display industry. However, the key to Sceptre's success extends beyond the manufacturing of world-class products. It lies in the company's ability to understand and cater to the unique needs of its partners and channels, earning their trust along the way.
Sceptre's overarching goal is to foster mutually beneficial relationships with a diverse range of partners, including mass retail, e-commerce, Fortune 500 companies, government entities, and small businesses across the nation. This is achieved through a commitment to research and development, utilizing cutting-edge technology while delivering top-tier service.
As evidenced by our rich history in research and development, Sceptre remains steadfast in its dedication to maintaining its leadership status by continually advancing LCD, LED, and HDTV technology. Sceptre's exceptional product quality, combined with industry-leading specifications, sets our R&D labs apart from the competition. This is made possible by our unwavering commitment to research and sophisticated development, enabling Sceptre to excel in providing tailored solutions for our partners.
1984 Monochrome/ Color Display for PC
1993 LCD Display for the Industry
2000 LCD TV for CE Industry
2006 LCD Display for digital signage
2009 LED Display for TV/Monitor
2010 Intelligent Tool-less TV desk/stand
2011 LED Display for 3D HDTV
2012 LED Display for 3D HDTV with IPTV
2013 LED large screen HDTV with touch screen panel
2014 4K Ultra High Definition TV
2015 4K UHD with Touch Screen Panel
2017 Curved LED Monitors
2018 Curved LED Gaming Monitors
2019 49" Super UItrawide Curved DQHD Gaming Monitor
2020 Nebula Series Premium Gaming Monitor
2021 2K HDR1000 Ultrawide Gaming Monitor
2022 Super High Refresh Rate 240hz Gaming Monitor
2023 100Hz LED High Performance Office Monitors
Goals
Committed to maintaining status as a leader in the industry by providing latest research and development advances in LCD, LED, and HDTV technology.
Progressive growth in innovative technology
Advancement in Mass retails and E-commerce.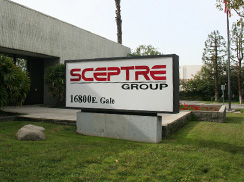 Quick Facts
Sceptre Inc.

September 1984

www.sceptre.com

16800 Gale Ave
City of Industry,
CA 91745